2023 Porsche Taycan for Sale
near Chelmsford, MA
The 2023 Porsche Taycan is the high-end luxury electric vehicle you've been dreaming of. Available in three eye-catching body styles -- the Porsche Taycan Sedan, Sport Turismo and Cross Turismo -- this new EV offers something for every New England Porsche enthusiast. And thanks to the impressive 2023 Taycan driving range, you can explore city streets and open highways far and wide before needing to plug in. Want to discover the differences between the 2023 Porsche Taycan 4S vs. Taycan GTS trim levels? Head to our Porsche dealership near Chelmsford today to browse our incredible selection of new Taycan EVs for sale.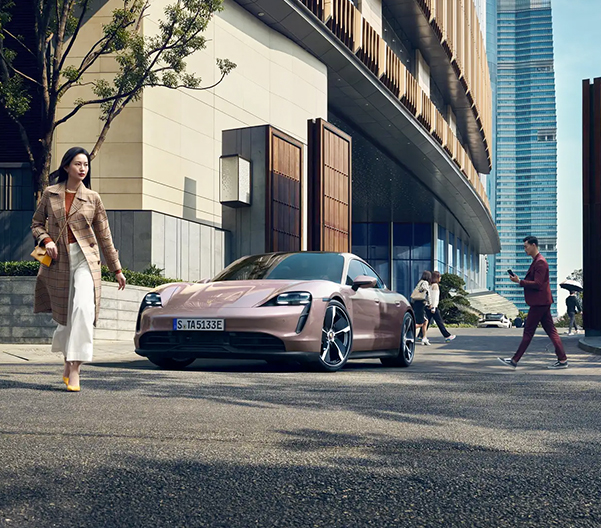 Compare 2023 Porsche Taycan Body Styles
2023 Porsche Taycan Sedan Trims:
2023 Porsche Taycan
2023 Porsche Taycan 4S
2023 Porsche Taycan GTS
2023 Porsche Taycan Turbo
2023 Porsche Taycan Turbo S
2023 Porsche Taycan Sport Turismo Trims:
2023 Porsche Taycan GTS Sport Turismo
2023 Porsche Taycan Cross Turismo Trims:
2023 Porsche Taycan 4 Cross Turismo
2023 Porsche Taycan 4S Cross Turismo
2023 Porsche Taycan Turbo Cross Turismo
2023 Porsche Taycan Turbo S Cross Turismo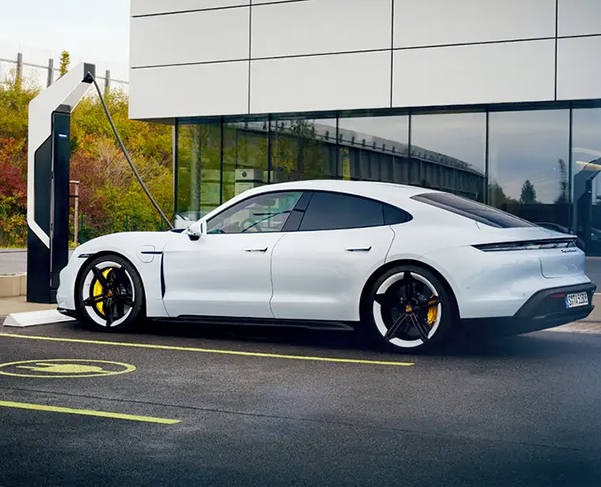 2023 Porsche Taycan Range, Specs & Performance
If you've been searching for a new electric luxury car for sale near Chelmsford that delivers pulse-pounding performance, look no further than the 2023 Porsche Taycan. The standard 2023 Taycan EV is powered by an AC Permanent Synchronous Motor that's paired with a Performance Battery. For more potent performance, Massachusetts Taycan enthusiasts can upgrade trims to enjoy multiple electric motors powered by the larger Performance Battery Plus. Want to experience up to 750 horsepower and exhilarating driving dynamics? Buy a Porsche Taycan Turbo S or lease a new Taycan Turbo S Cross Turismo at our Herb Chambers Company. More 2023 Porsche Taycan specs and performance features can include:
AC Permanent Synchronous Motors & Performance Battery Plus with up to 750 hp and 774 lb-ft of torque
Max 282-mile driving range with Performance Battery Plus
0-to-60 mph in 2.6 sec
Porsche Recuperation Management & Launch Control
2023 Porsche Taycan Interior & Safety
The 2023 Taycan electric performance vehicle is just as tech-savvy as it is powerful. New Porsche Taycan EVs for sale in Burlington feature an advanced Porsche Connect infotainment system with Voice Pilot, allowing you to give your car verbal commands. Meanwhile, a Charging Planner makes it easy for you to find local EV charging stations and plan out your route for the optimal balance between time and distance. Other 2023 Porsche Taycan interior technologies and safety features may include:
Apple Music® built-in & Spotify® integration
Porsche Intelligent Range Manager
Active Lane Keeping
Porsche InnoDrive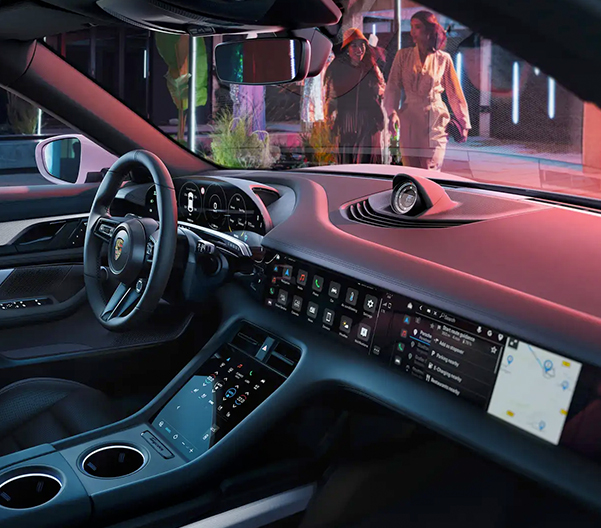 Which Taycan Gets the Best Range?
When equipped with Performance Battery Plus, the base 2023 Porsche Taycan trim achieves the best range. The new Taycan Sedan, for sale near Chelmsford, can provide up to 282 miles of range. While all 2023 Taycan trims can travel more than 220 miles on a full charge, available Porsche EV battery options can help you choose the right blend of range and performance for your needs. Compare Porsche Taycan ranges and review EV charging info at our local Porsche dealer.
Massachusetts Porsche EV Dealer near Me
Ready to get the keys to the 2023 Porsche Taycan GTS Sport Turismo or new Taycan 4S Cross Turismo that's calling your name? Turn to Porsche of Burlington, A Herb Chambers Company, to explore the new Taycan EVs on our lot. Our team will be happy to give you an in-depth 2023 Taycan review and go over your auto financing options so you can make the most of your time at our nearby Porsche dealership.
2023 Porsche Taycan FAQs
Is there a new Taycan coming?
Yes, we now have the 2023 Porsche Taycan for sale at our local Porsche dealership.
Is the Porsche Taycan an everyday car?
The Porsche Taycan EV is built for all of life's adventures -- including daily drives. Thanks to the expanding network of nearby electric car charging stations, owning and driving a Taycan is more convenient than ever.
How fast is the Porsche Taycan?
The 2023 Porsche Taycan Turbo S and Taycan Turbo S Cross Turismo models can accelerate from 0-to-60 mph in just 2.6 seconds.
What are the different Taycan body styles?
There are three distinct 2023 Porsche Taycan body styles: Sedan, Sport Turismo and Cross Turismo.